By David Lowe
From the Queen and the Queen Mother, to Archbishops and other dignitaries, the Royal Foundation of St Katharine has welcomed a long list of notables over the years.
Yet perhaps none have captured the public's imagination to quite the same extent as the Community of St John the Divine. While its members are hardly household names, it was the Anglican order's devoted sisters who inspired the hit television series, Call the Midwife.
Author of the books on which the show is based, Jennifer Worth, trained and worked with the Community in Poplar in London's East End in the mid-1950s, before penning her memoirs of the era.
Drawing a staggering average of 8.7 million viewers across the first series alone, Call the Midwife propelled St John's into the limelight, sharing their remarkable service to God and society with the wider world.
Although the sisters' tenure at St Katharine's lasted just three years, from 1992 to 1995, their sojourn in Limehouse proved blessed and fruitful.
Now based in a former bed and breakfast in Marston Green, Birmingham, the four remaining sisters are happy to shed light on their time in the rambling Georgian rectory by the Thames.
Still spritely at 82, Sr Margaret Angela, says: "We moved to St Katharine's in January 1992, when Reverend Malcolm Johnson was appointed Master after Father Christopher Lowe. We took over from the Brothers of Mirfield, who left as we arrived. It was an experiment of sorts; becoming part of a wider community including Franciscan friars and lay people.
Malcolm was a good friend while he was at St Botolph's Aldgate, and is of course renowned for work with the marginalised, particularly those suffering HIV.
In some ways things were tough for us, but the good side was the people who came. We had all sorts visiting events and conferences, and the Crown Commission Appointments.
Through the International Social Service we had children from Kosovo and the Balkans for the weekend. That was incredible. We really did meet some
extraordinary folk, which carried us through."
Since it was founded in 1848, the Community has seen its share of upheaval; the journey to Marston Green, where they settled in 2016, has been fraught with challenges.
During the Second World War their house in Poplar was struck by a bomb, tragically killing Sister Marjorie, who was found alive in the rubble but died shortly afterwards.
The sisters subsequently moved to St Frideswide's Mission House, Lodore Street, which inspired Nonnatus House in Call the Midwife.
Although it was agreed they could stay for a peppercorn rent, by 1977 the Bishop of Stepney, Jim Thompson, wished to charge market rate, and so the Community faced another move.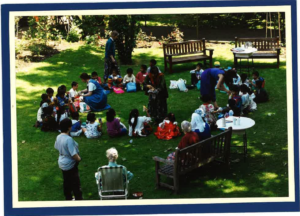 Sr Margaret Angela says: "They offered us an unoccupied, four-storey vicarage in Bow. It had been colonised by feral cats and the conditions were indescribable.
Thankfully we received help to make it habitable, and we remained there for a few years before going to a vicarage in Kennington. We subsequently made a three-year commitment to St Katharine's, moving in 1992."
Even in the early 1990s, Limehouse was nothing like the desirable London neighbourhood it is today. Sr Margaret Angela recalls the derelict buildings at the top of the St Katharine's site, which it is hoped will be soon incorporated into an exciting new masterplan for the complex.
Meanwhile, on the opposite side of Butcher Row, a former factory played host to a lively community of artists and musicians, who brought some colour to the otherwise deprived area.
That's not to say life within the walls of St Katharine's was dull. Sr Margaret Angela has fond memories of the four sisters (Teresa, Monica, Iona and herself), warden Mary Snowden and three Franciscan brothers named Colin Wilfred, Jude and Timothy, who made up St Katharine's closely knit core community.
They were assisted by a range of remarkable lay people, including gardener Sean O'Brien, retired school teacher Rene Dicker and redoubtable octogenarian, Dorothy Howell-Thomas, one-time secretary to the renowned
Archbishop of Canterbury, William Temple.
Chatting over a cuppa in the cosy living room at Marston Green, Sr Margaret Angela suddenly remembers another important resident, and laughs out loud at the mischievous antics of Ripples the cat.
She says: "The sisters' flat was on the first floor of St Katharine's. My room had the balcony, with Sister Teresa next door. Our pet cat had come with us, and as we couldn't insert a cat-flap in the rectory, she taught herself an ingenious way to get to my room.
In the summer, when the windows were open, she would scale the Virginia creeper to Teresa's room, plop down on her bed, exit the window to the balcony and then jump inside to see me. It was quite something."
Growing tomatoes on the balcony, the beguiling aroma of wisteria and watching the London marathon from the roof are just some of the other memories Sr Margaret Angela treasures of her years at St Katharine's.
Before taking up residence she already knew the East End well, having been a parish worker there, and then training in midwifery at Mile End Hospital in the early 1970s.
She says: "There was a lot of deprivation. This was well before today's yuppie land sprang up. Men working on the docks were about to lose their jobs.
I remember going to a house to do a home delivery assessment and while it was spotlessly clean, there was minimal furniture and the children were running around in bare feet, like a scene from Call the Midwife I suppose.
But there was a lot of love in the home and I think in those days there was more openness to assistance from a religious community. It helped that the sisters had been in the East End since 1880, so they were incredibly well-known having delivered, nursed and laid out on the district for generations."
The success of Call the Midwife has created opportunities the young Sr Margaret Angela wouldn't have dreamt of during those early days.
She says: "Jennifer Worth's books and the show that followed have had a hugely positive impact. I remember reading her early drafts, little knowing the sensation they would become later.
The show is meticulously detailed, and we've all been consulted at some point to comment on how this or that was done in real life. I've even enjoyed chauffeur-driven set visits to the Longcross Film Studios in Chertsey, Surrey.
I've met Jenny Agutter, who plays Sister Julienne, and also Miriam Margolyes, who plays the forthright Sister Mildred. Miriam was rather forthright in real life, and over lunch asked questions about our Community and life."
Well before rubbing shoulders with showbiz royalty, Sr Margaret Angela recalls a visit to St Katharine's by an important member of the British Royal Family: none other than the Queen Mother. Even 17 years after her death, Her Majesty's sense of fun is legendary, and was certainly clear to see on her trip to the East End.
Sr Margaret Angela says: "The Queen Mother was patron of St Katharine's for 49 years and incredibly proud of her association. She always had a fondness for the East End, and after Buckingham Palace was
bombed in the Second World War remarked that she could now look Eastenders in the eye.
"She had originally been invited for tea, but responded that drinks would be more to her liking. Despite recently returning from Canada she didn't show a hint of jetlag and walked about chatting. We were prepared to serve gin and tonics, however, she fancied whisky that day, and was followed around with a stiff measure on a tray.
On a previous visit the staff were told not to speak unless they were spoken to, and apparently the lady from the laundry let the excitement get the better of her, piping up, 'Oh I do like your suit!' The Queen Mother just smiled and responded, 'Why, thank-you very much.'"
By December 1995, the Community's three-year commitment to the Royal Foundation of St Katharine was at an end. Their tenure had seen challenge and opportunity, and throughout it all they'd felt God's guiding hand.
The four sisters moved once again, this time from London to join their colleagues at the Mother House, a grade two listed farmhouse in Alum Rock, Birmingham.
As the years rolled by, and with community numbers dwindling, Alum Rock was eventually put up for sale and bought by the mission agency International Service Fellowship, who respectfully chose to retain the name St John's House.
Sr Margaret Angela, together with Sr Christine, Sr Shirley and Sr Ivy, moved to their charming current home in 2016.
There the light-filled chapel overlooks a lush green lawn, where the sisters' cats, Kitty and Lucy, like to play.
The well-stocked library is full of volumes to nourish the soul, as well as the odd thriller and romance.
Visitors might be lucky enough to enjoy a meal or a cup of strong tea and Ivy's homemade cake in the cosy refectory, where a print of Mount Sinai is among the pretty pictures adorning the walls.
Those requiring solace and privacy can retreat to the aptly named God Pod, in a secluded corner of the garden. The comfortably furnished studio is a perfect place in which to counsel and pray for those in need.
Sr Christine, 79, who worked as a midwife from 1961 to 1990, says: "We knew we had to downsize because we were so small. It was sad to leave Alum Rock, but this house is always buzzing, always full. Because it was a bed and breakfast, our own bedrooms are en-suite. None of us have ever known such luxury."
The sisters of the Community of St John the Divine have lived in many places and served many communities over the years; their days at St Katharine's form just a small part of their story.
It's not surprising their remarkable lives helped inspire one of the most popular television shows of recent times.
As they continue sharing the love of God, it is heartening that a Christian community founded in 1848 endures. The sisters are an inspiration in so many ways.
Words by David Lowe, a London-based writer and editor, who can be contacted via david-lowe.me.
David and Carol Rider, Lay Chaplain of the Royal Foundation of St Katharine's, visited the sisters at their new home in Marston Green in April 2019