Christian retreat The Royal Foundation of St Katharine, an ancient royal charity that provides a unique place of peace and tranquility at the heart of East London, is partnering with The Spirituals in an innovative programme of worship and community connection.
London based outfit The Spirituals has in recent months found a new spiritual home at The Royal Foundation of St Katharine's. The historic chapel in the grounds has provided a quietly serene yet light-filled space ideal for The Spirituals so the partnership with St Katherine's is a natural progression. Despite its central location in the East End, The Royal Foundation of St Katherine is a place of peace and tranquility required for the creative process, becoming an ideal base for The Spirituals as a central location for rehearsals, vocal arranging, and recording.
The Spirituals were formed in October 2020 as a creative response to the murder and injustice of George Floyd. Music Artist and Creative Director, Junior Garr began by reimagining spiritual anthems to commemorate black history, music and culture along with Arranger/Conductor Marsha Morrison. Junior Garr explains: "The senseless murder of George Floyd in the midst of the pandemic felt like the world was turned upside down – and those two things sparked a really long journey for me of processing the tragic worldwide events."
Perhaps best known for their viral hit 'Wade In The Water' which has had 16M views on YouTube to date. Since its inception during the pandemic, The Spirituals released three EPs and performed in iconic venues including Lambeth Palace, St Paul's Cathedral and Wembley Arena, as well as the 2022 Olympics. Recent performances include the iconic Union Chapel and Greenbelt Festival's 50th. The Spirituals have won a number of prestigious awards, such as Choir of the Year from StepFWD Awards, Premier Gospel Awards and The GX Awards.
The Spirituals repertoire crosses generations with relevant sounds and harmonies such as their upcoming hymns project. This is exemplified by Labi Siffre's inspiring classic 'Something Inside So Strong' which has had 2.4M views to date with the aim of inspiring people to take action.
"Music has so much power – the very force of nature that music has the ability to transform all languages and cultures and if we put the message in the music then the world can get to hear it and experience it." – Junior Garr.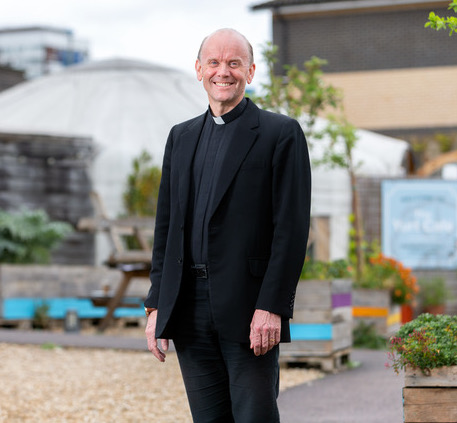 The Venerable Roger Preece, Master of St Katharine's commented: "We have loved hosting The Spirituals in recent months as they have been developing their offering of worshipful, inspirational music to take around the country. All the choir members bring themselves a wonderful spirit and the worship that they offer in our community space or chapel adds to the richness of St Katharine's life. In our history, St Katharine's used to have a choir that was said to be comparable to St Paul's Cathedral. It is a joy now to have The Spirituals as our choral partners."
Junior Garr adds: "We have been made to feel so welcome at St Katharine's and it is great for our choir to now have a spiritual home. It is a joy to bring our distinctive musical offering into such a historic venue that is a real urban oasis. We are looking forward to hosting open community rehearsals as well as live streamed worship from the chapel in the coming months."
Dates at St Katharine's with The Spirituals
Future events include:
Spirit Nights – with The Spirituals
Inspirational worship and spoken word on the Advent and Christmas themes live stream from St Katharine's Chapel hosted by Roger Preece.
Sunday 26th November 7.30pm – 8.30pm – Advent Words and Reflection
Sunday 10th December 7.30- 8.30pm – Christmas Hopes and Celebration
Carols and Readings for Christmas. Congregational carols and choir pieces arranged and sung by The Spirituals. Refreshments available afterwards.
Thursday 14th December 6pm – Christmas Carol Service at the St Katharine's Chapel
Register for Carols and Readings for Christmas at www.rfsk.org.uk space is limited. The Spirituals also have a significant partnership with international development agency Christian Aid and are also celebrating their third year anniversary on 12th November at Koko Camden – see link for events.